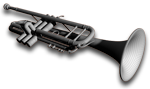 Wanted ever to create some musical instrument in 3ds Max? Now you will have the chance!We will use a simple blueprint like a reference and place it in 3ds Max which will allow us to model this instrument step by step like it's on the reference picture. We will use poly modeling
, starting from a basic cylinder and step by step transforming it in a copy of the reference picture. Using the basic and advance techniques of poly modeling we will create a smooth model.
After we will create a basic scene, materials in Mental Ray and lighting which we will use by the final render. At final we will get in touch with some post production Photoshop. A quick gallery from the tutorial
, download links and the tutorial you can find at the bottom of this article. If you like the tutorial, want to suggest something or post your work, leave a comment on the forum.
Include:

Using reference pictures in 3ds Max
Using poly modeling technique from a cylinder
Using poly functions to make the details
Creating musical instrument 3ds Max
Basic materials in Mental Ray
Basic lightning and render settings in Mental Ray
Post production in Photoshop

Time:

Software used in the tutorial:

3ds Max 2011
Photoshop (optional)
Tags:
3dsmax tutorial
,
3d animation software
,
3ds max modeling tutorial
,
3d modeling software
,
tutorial for 3dsmax
,
3d software
,
3ds max tutorial
,
modeling a trumpet
,
modeling trumpet in 3ds max
,
trumpet tutorial in 3ds max