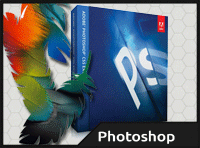 Retouching of an image is the most used art how Photoshop is used. The reason why is very simple. Even you are a good photographer or master in rendering, from time to time you need to touch your photo or image a bit in Photoshop to correct or hide parts of your artwork. Even though Photoshop wasn't made for this it gives the user several ways how to improve his artwork, image or photography by using simple techniques and layer combinations. In this tutorial
I will take an image of a woman in her natural way and try using Photoshop to improve the image but keeping a natural look on the person.
At first i will brush away all skin deficiencies and so clear it for a clean but natural look. After this step I will quick analyse the photo and decide what need to be improved and what we will keep as it was. Like this I will cover eye correction together with highlighting them, skin smoothing, colour correction and also shadow highlighting. At the end I will explain a way how to do masks in Photoshop and finalize the picture.
Include:

Retouching a photo
Skin corrections
Eyes highlighting
Skin smoothing
Color correction
Manipulating the image using layers and filters

Time:

Software used in the tutorial:
Tags:
photoshop tutorial
,
tutorial for photoshop
,
adobe photoshop tutorial
,
2d painting software
,
2d modeling software
,
2d software
,
digital art tutorial
,
digital painting tutorial
,
changing colors in photoshop tutorial
,
changing colors in photoshop