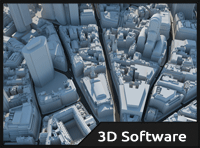 Autodesk announced the release of their latest compilation of award-winning 3D animation, visual effects and creative tools, which are offering a completely new workflow enhancements to help artists collaborate, manage complexity and move data through their pipeline more efficiently, Autodesk Entertainment Creation Suite 2014. All tools included in the Creation Suite including Autodesk Maya 2014, Autodesk 3ds Max 2014, Autodesk MotionBuilder 2014, Autodesk Mudbox 2014, Autodesk Softimage 2014 and Autodesk Sketchbook Designer 2014 have been updated to their 2014 versions brining new features and enhancements. The Entertainment Creation Suite is divided into three categories to meet the demands of any sized team, budget or project. The Standard edition includes industry-recognized 3D software and offers a choice of either Autodesk Maya 2014 or Autodesk 3ds Max 2014 with Autodesk MotionBuilder 2014, Autodesk Mudbox 2014 and Autodesk Sketchbook Designer 2014.
The Premium edition offers all the software of the Standard Suite, but with the addition of Autodesk Softimage 2014 3D animation and visual effects software. With the last Ultimate Suite, customers have access to the value of the Premium edition, with the added benefit of including both Maya 2014 and 3ds Max 2014. Moreover, all tools have been updated for support for Microsoft® Windows® 8 operating system.
"Modern production teams must manage multiple complex, visually demanding projects at any given time, and Autodesk works closely with world renowned entertainment studios to develop the most powerful solutions," said Chris Bradshaw, senior vice president, Media & Entertainment at Autodesk. "The Entertainment Creation Suites provide a unified and flexible workflow, offering teams of all sizes the ability to better manage across a globally distributed creative workforce. Each product in the toolset saves valuable production time, while giving artists more creative freedom to work with the best tool for the job at hand."

Autodesk Maya 2014
Autodesk Maya 2014 offers a next-generation display technology, accelerated modelling workflows, robust new systems for handling complex data, and inspiring new creative toolsets to help content creators stay ahead of their competition. The 2014 update includes an expanded, integrated modelling feature set; intuitive Grease Pencil; and innovative new Paint Effects features that are designed to improve productivity and enhance creativity. The Maya DX11Shader, working with enhancements to Viewport 2.0, enables artists to work in a high-quality real-time environment that closely matches final output. New Scene Assembly, a File Path Editor, and URI (Uniform Resource Identifier) support tools allows for easier building and managing of large and complex worlds.
Next-Gen Viewport Display and Shading- Artists can now take advantage of the power of Microsoft® DirectX 11® software to help create and edit high quality assets and images in less time, with the new Maya DX11Shader. Using the next generation of viewport display and hardware rendering technology, DX11Shader offers artists real-time, centralized, easy-to-control shader effects: crack-free tessellation, vector displacement maps, translucence, reflections, and shadows. The DX11Shader is built with a new API that exposes DirectX 11 natively in Maya with HLSL (High Level Shading Language) support. DX11Shader is only available on the Microsoft® Windows® 64-bit operating system.
Accelerated Modelling Workflow- Building on technology from the well-known NEX toolset from dRaster, Maya 2014 delivers an expanded, integrated modelling feature set that offers an accelerated workflow for modelling. A new Modelling Toolkit panel presents a streamlined environment that enables artists to access new selection, transformation, and mesh editing tools in one place for increased efficiency. With topology based Symmetry tools that enable artists to work on posed meshes; a Quad Draw tool that facilitates re-topology workflows; and a Multi-Cut tool that combines both Split/Cut Faces and Insert Edge Loop tools in a single operation, the Modelling Toolkit helps artists work faster and achieve higher quality results. Moreover, the overall improvements to workflow efficiency, accuracy, and speed help make polygon modelling in Maya 2014 an enhanced experience. In addition to the new Modelling Toolkit panel, a new Polygon Reduction algorithm offers a faster and more efficient method for reducing mesh complexity by removing unneeded vertices without affecting the object's basic shape.
Scene Assembly Tools for Smarter Data- Creating large, complex worlds is now easier in Maya 2014. Building on the Open Data platform, the Alembic open source exchange format, and File Referencing, Scene Assembly tools provide a mechanism for representing production assets in Maya as discrete elements, each with complete support for multiple representations. Artists can easily swap between different representations for example: varying levels of detail, enabling them to select the most appropriate compromise between fidelity and performance for the task at hand. Edits can be applied, animated, or queried at any level in the scene assembly hierarchy, while overrides on Assemblies can be tracked via an improved Edits system, helping facilitate collaborative workflows across production departments. A robust API enables studios to customize the toolset to create completely proprietary solutions.
Grease Pencil- Now artists can quickly block out and mark up animation directly within the 3D scene using one of the most natural tools available—the Grease Pencil. Artists can draw directly into the viewport to capture poses at key frames, and view in-between transitions as cross-fades. The pencil strokes are automatically stored as an image plane sequence, enabling artists to use them as reference while creating 3D animation. In addition, directors and other stakeholders can use the Grease Pencil to mark up performances and record their input in the form of notes for their animators, without themselves requiring knowledge of the 3D application.
New Paint Effects Surface and Volume Attributes- Artists can now control how Paint Effects strokes react with surfaces, volumes, and each other. Surface Snap helps make sure that tubes grow from the nearest point on the surface at their base. Surface Attract causes tubes to wrap around or cling to a surface. Surface Collide helps prevent tubes from interpenetrating surfaces, while Make Collide can be used to make Paint Effects strokes appear to be pushed by a surface. Occupation is based on a Space Colonization algorithm that helps avoid self-collisions, and can be used to cause tubes to grow over a surface or into a volume. Together, these attributes can be used to more quickly and easily create a wide range of natural effects that would be very difficult and time-consuming to create with conventional methods. Just a few examples are: Vascular networks, electrical sparks, flowing water, clinging vines, contained plant growth, and footsteps on grass.
Autodesk 3ds Max
Autodesk 3ds Max 2014 brings a unique approach to 3D animation for motion graphics, visual effects, design visualization, and game development. With the new Populate feature set for automatic crowd generation, 3ds Max 2014 allows artists to quickly and easily generate moving or idle crowds with life-like human reactions and activity. Between the new features belong also a significantly enhanced and more efficient Particle Flow toolset and a performance-enhanced viewport that now supports Microsoft DirectX 11 shaders. Perspective Match and Vector Map tools allow artists to extend their creative capabilities by crossing the 2D/3D divide.
Populate - Now artists can bring worlds to life in a few simple steps, with the new crowd animation feature set in 3ds Max 2014. Offering high-level control of plausible human animation, Populate enables artists to quickly and easily generate moving or idle crowds within selected areas of a scene to enrich architectural presentations with realistic human activity, or to pre-visualize a film or video scene. Populate comes with a set of animations and characters for use in common public settings: sidewalks, hallways, lobbies, and plazas; crowd composition tools enable artists to connect walkways into patterns of pedestrian flow.
Improved Viewport Performance - Interactive and playback performance for complex scenes, CAD data, and deforming meshes is significantly improved in 3ds Max 2014, thanks to new adaptive degradation techniques, improved texture memory management, the addition of parallelized modifier computations, and certain other optimizations.
DX 11 Viewport Rendering - Artists can now take advantage of the power of Microsoft® DirectX® 11 software to help create and edit high-quality assets and images in less time, with new support for DirectX 11 shaders in 3ds Max 2014. In addition, a new API exposes DirectX 11 capabilities in 3ds Max with HLSL (High Level Shading Language) support.


Autodesk Softimage 2014
Autodesk Softimage 2014 extends its high-performance features with new and enhanced tools. With the new Camera Sequencer toolset the artists gets the ability to cut between multiple cameras to edit clips, leaving the original animation data unchanged. Improved CrowdFX and ICE (Interactive Creative Environment) features enable artists to use the concept of passes and partitions in any combination with any aspect of ICE. An improved High-Quality Viewport delivers a higher fidelity interactive experience. Autodesk Softimage 2014 now offers easier integration into existing pipelines through improved support for animation data exchange via the Autodesk FBX 2014 format.
Camera Sequencer- Artists can now have directorial control over their scenes, thanks to a new Camera Sequencer toolset that offers the ability to easily cut between multiple cameras, and to trim, reorder, and retime clips non-destructively—leaving the original animation data unchanged.
CrowdFX Enhancements - The CrowdFX crowd simulation feature set introduced in Autodesk Softimage 2013 software has been enhanced toprovide improved performance and ease of use. Artists can now more easily adjust characters' behaviour, while TDs(technical directors) can more easily blend and modify predefined animations.
ICE Enhancements- It's now possible to easily override exposed ports of compounds within the ICE procedural framework. This enables artists to use the concept of passes and partitions, where the value for any parameter can be different in each pass, in combination with any aspect of ICE. In addition, performance while interactively editing complex ICE trees has been improved.
Autodesk MotionBuilder 2014
With Autodesk MotionBuilder 2014, artists can benefit from new tools which will help to efficiently manipulate and refine motion capture and other character animation data for use in onset visualization, pre-visualization, virtual cinematography, feature film production and game development. Using the new workflow options and methods for manipulating objects, MotionBuilder 2014 helps artists to produce high-quality animation content.
Linux Support- MotionBuilder 2014 is now available as a 64-bit executable for the Linux® operating system. This enables studios with Linux-based pipelines to more easily integrate MotionBuilder.
Advanced Motion Capture Workflow Options- New flexible motion capture workflows allow you to assign markers directly and an improved IK solver helps create higher quality animation faster.
Custom Renderer API- Studios can now integrate custom viewport renderers into MotionBuilder 2014, thanks to a new custom renderer API. Artists can easily switch between the default renderer and a custom renderer and output from multiple different renderers simultaneously.
Ruler Tool- Artists can now measure the distance between objects in a scene using the new Ruler Tool. A 3D cursor enables artists to snap each end of the ruler to the surfaces of objects in the scene, helping to make sure that an accurate measurement is taken. This is useful in aligning real-world props on the motion capture stage with CG elements that will replace them.


Autodesk Mudbox 2014
The latest update to Autodesk Mudbox 2014 offers single-click automatic and manual options to manipulate meshes or to precisely control various aspects of the output mesh with a user-directed solution. The new tools implemented inside Mudbox 2014 allowing artists to concentrate purely on aesthetic considerations as they sculpt, without altering the underlying structure. Enhanced multi-touch workflows now include support for stencils and additional touch-enabled input devices.
Advanced Re-topology Tools- Artists can now more easily create production-quality meshes from scanned, imported, or sculpted data, with new fully automatic and user-directed options for retopologizing. With the Mudbox Re-topology toolset, artists can concentrate on aesthetic considerations as they sculpt, exploring and iterating freely without worrying about the underlying structure; when they have completed their model, they can use Mudbox to automatically or manually create an animation-ready mesh with high-quality topology.
Extended Multi-Touch Workflows- The multi-touch workflows first supported in Autodesk Mudbox 2013 software have been extended to include direct manipulation of stencils on the screen, and support for certain additional devices. The intuitive multi-touch technology works with the Wacom® Intuos®5 touch tablet, the Wacom® Cintiq® 24HD touch tablet, and certain other touch-enabled input devices. These devices are able to sense input from more than one point at a time, enabling artists to benefit from the ability to use multi-finger, or simultaneous pen and hand gestures to manipulate the model, the camera view, or certain tool settings. As a result, creative sculpting and painting productivity is increased.


Autodesk SketchBook Designer 2014
Autodesk SketchBook Designer 2014 is an intuitive hybrid paint and vector toolset that enables exploration and presentation of new ideas for characters, props and environments. Additional benefits include: sketching, painting and image compositing workflows; easy colour manipulation; mixed media workflows and an industry-unique transformation tool. The dynamic, scalable user interface is optimized for both pen and mouse interaction and is designed to offer maximum creative freedom.
More information at: Autodesk
Tags:
3d animation software
,
autodesk university
,
3d modeling software
,
architectural visualization
,
3DsMax
,
Autodesk
,
Maya
,
Autodesk Digital Entertainment Creation