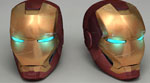 In this tutorial
i will show you how to model Iron Man helmet, texture it and render using Autodesk 3ds max and Adobe Photoshop. By this we will use poly modelling technique where we start from a single poly. This technique is widely used for car or head modelling and the steps and technique covered in this tutorial is the same and you can use them to model anything. We will start preparing our scene for modelling and place the reference pictures inside 3ds max environment. Because we are modelling from a single poly we need at least three pictures; front, side and back to be able to model the helmet according the reference picture. After the initial set-up we will start the modelling process starting with the front cover of the helmet and continue with the rest of the helmet. The modelling process is very simple and only the basic editable-poly tools are used to build the model.
After the shape would be finished we will do some fine tuning to the helmet using graphite modelling tools to achieve the right poly flow to our shape. One of the last modelling steps will be adding the details to the helmet according the reference pictures. By this we will focus not only on the details but also on the shape where we will do edge tightening using chamfer and connect tools and so create a sharper look of the helmet. After finishing the model I will explain how I modified the textures which we will use for our helmet using Photoshop. At the end we will use the 3D-Sphere
material library which you can download from the menu on the right side of 3D-Sphere and apply the materials and textures to our model. For rendering i will use Photometric Lights and MentalRay. Here i will change my default light setup which i use in most tutorials and take advantage of light bouncing by creating a "light tent" and so simulate real world environment. Together with the final render we will render also an Ambient & Occlusion map and do some postproduction in Photoshop. You can download the reference materials and as well watch the tutorial below and if you have any questions, just write us.
This tutorial is featuring a new way of streaming our videos which supports seeking of the video. This means that you can jump to any part of the video. You can slide to the next part using the "bullets" bellow the video. If you have any troubles, please tell us immediately.
Include:

Modelling Iron Man helmet
Modelling using a reference
Modeling a high-poly model
Using poly-modelling technique
Starting from a single poly
Using editable poly to add details
Smoothing the object using subdivision
Using Photoshop for creating textures
Rendreing with MentalRay

Time:

Software used in the tutorial:

3ds Max 2012
Photoshop (optional)
Tags:
3dsmax tutorial
,
3d animation software
,
3d modeling software
,
tutorial for 3dsmax
,
3d software
,
3ds max tutorial
,
photoshop tutorial
,
weapon modeling tutorial
,
iron man helmet tutorial