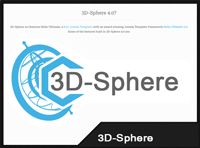 After a longer time of being a bit passive at 3D-Sphere we are restarting the work here. The main reason for this was the fact that i had my wedding before me. Everyone who experienced this social occasion will agree with me that it's one of the busiest times full of arranging lots of things. Now the wedding is behind me and iam officially a husband J. Of course iam a bit sorry for not uploading tutorials, recording new ones and overall working more on the quality of this web-site. Still I had to choose my priority here and of course it was my wife. I hope all users will understand the reasons why it was so and look forward on the changes we are preparing.
At first we restarting the work on the "Material library" which we announced a long time ago but hadn't enough time to finish it. As I mentioned before we want to create a larger "Material libary" with materials for different applications and plugins starting with MentalRay. Still, we are waiting for a new release of the download system we would like to use and in the meantime we are preparing the actual material which would be present inside the library.
Next, after longer thinking about the embedded tutorials we want to re-upload the older tutorials to a different place and instead of streaming the videos apply the progressive download method on them. Like this we will particularly solve few issues and also save space on the streaming server where the space is limited and have to be enlarged.
At last we will try to focus on new tutorials and content including some reviews, interesting interviews and more. We hope to jump in the work as fast as we can and very soon bring new stuff.
3D-Sphere Administrator