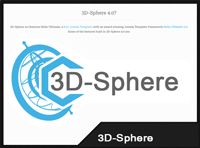 Do you want to share and publish something to the community here at 3D-Sphere.com?
We can give you the place where you can publish your work, making of or a tutorial which was did using 3DsMax, Maya, ZBrush, ... or any other 3D and also 2D application at any difficulty level. We accept bot video and text-based entries as long its relevant to the 3D-Sphere content and user friendly. Tutorials or articles which will be approved by the 3D-Sphere team would be published at 3D-Sphere.com , our forums and social networks with all credits, links and of course authors name.
If you want to submit something you can do so by sending an e-mail to: tutorials (at) 3d-sphere.com. The submission of a text-based article (tutorial) should include all images properly indexed also in the text. By video-based article (tutorial) provide a short description about the video, size and duration.
Along with your article (tutorial), please include the following information:
Subject: Submission
Your name
Article (tutorial) name
Website (if available)
Description of the article (tutorial)
Used Software
After the submission 3D-Sphere team will judge and decide if the content of the submitted article (tutorial) is relevant and will contact the sender in both cases. If your article (tutorial) will be approved we will send you all instruction and other information's needed within a week.
3D-Sphere Administrators