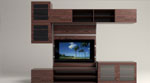 In this tutorial we will model a living room wall and get again a bit closer to the final scene which would be an interior render merging all our model did before. This part of furniture is very popular and you can basically find it everywhere and it's used for placing the TV or any electronics inside the living room. As by other tutorials we will start by placing our reference objects inside our scene. For this tutorial i choose three different images where one of them is the primary one and from the two other we will grab a part of the shelf design. After placing the reference images we will start the modelling process by choosing the right primitive to start, in our case it's a box. Using the poly-modelling technique we will start to edit the geometry and transform the simple box into a model which look replicates the one on the reference image. We will also model some extra details just to be sure to be able to use the model also by close shots and also bind some parts together to move and rotate simultaneously while opening or closing the front door on the shelves.
Like this we will model all the models which we will see on the reference image and try to keep the original dimension of the whole set. Because we want to use this model together with the rest we did before is very important to model in real world scale and also to keep our unit system in cm as we did before. The last model we will do would be a dummy TV, this we need to complete the final look of the living room wall and also to fill the place for the TV. We will use the 3D-Sphere material library which you can download from the menu on the left side of 3D-Sphere and apply materials to our model. For rendering i will use Photometric Lights and MentalRay for realistic looking result. At the end together with the final render we will render also an Ambient & Occlusion map and do some postproduction in Photoshop. You can watch the tutorial below and if you have any questions, just write us.
Note
By processing the video I noticed that the sound is corrupted on all three parts. Iam sorry for this and so far the tutorials are without any sound but I will try to record some additional sound when i have some spare time.
Modelling using a reference
Modelling using poly-modelling technique
Using "bind" to bind objects together
Using editable poly to add details
Smoothing the object using subdivision
Materials using Arch&Design
Lightning using MR Photometric Lights
Rendering, Ambient & Occlusion
Postproduction in Photoshop
3ds Max 2012
Photoshop (optional)