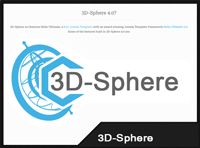 The end of the year is coming and also our budget for 3D-Sphere is dry like a martini. The website and everything around was so far financed only from our resources, so from our pockets. The Google ads placed on the website are not earning anything. If we should compare the earnings from Google ads vs. the payments we did, we are deep below zero :(. All the stuff we are doing at 3D-Sphere we are doing for free and we don't want to change this at any cost. In the future maybe we would be able to get some sponsoring or something which can cover the expenses but so far we had no luck for this kind for help.
We hope for the best and we are not going to beg for donations or other things but if there should be really steps how to help us to keep the website alive, here three:
• Help us with the content (read more about this here)
• If you can, donate something (read more about this here)
• If you find the Google ads interesting, don't hesitate and click on them. We are not going to tell you to click on them if you don't like them. Every click counts and it can help us!
For what would be the money used. Really, how much you think the 3D-Sphere costs per month? The running costs are around 100$-200$ per month which includes; hosting, streaming server, streaming fees, component and modules subscriptions, additional software. So, if you can and you like the ads, click on them if you want.
3D-Sphere Administrator