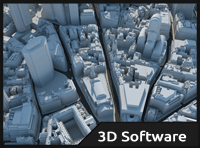 IntegrityWare, Inc. / nPower Software announces the release of a new software platform (Cyborg3D), and three new products developed on that platform: SubD2CAD creates and converts subdivision surfaces into CAD formats. CAD2Print converts CAD formats into high quality STL files for 3-D printing. CAD2Poly converts CAD parts and assemblies into polygonal formats for visualization and gaming applications. For many years the software developed by nPower Software has helped 3D engineers and designers improve productivity through its popular, award winning plugins (Power Surfacing for SolidWorks, Power Translators for 3ds Max / Maya / MODO, Power SubD-NURBS for 3ds Max / MODO, Power NURBS for 3ds Max, etc.) for 3ds Max, Maya, MODO, and SolidWorks. Cyborg3D combines the above mentioned plugins to a new standalone 3D modeling software platform that uniquely combines organic surface modeling (subdivision surfaces) with precise, parametric CAD (NURBS solids & surfaces) modeling. The strength of Cyborg3D comes from its unique, patented technology for converting between organic geometry and precise NURBS geometry, and for calculating and maintaining complex relationships between diverse types of geometry. The new interface is very intuitive and easy to use making the learning process much easier, and empowers users to optimize their productivity. A new accurate conversion technology provides the possibility of processing various formats from diverse 3D modeling systems; it can import and export CAD models (STEP, IGES, SAT) and mesh models (OBJ, STL).
Cyborg3D SubD2CAD
Cyborg3D SubD2CAD will convert typical Subdivision surface (SubD) models from 3ds Max, MODO, SoftImage, ZBrush, etc., and most models from 3D model databases like Turbosquid into standard CAD formats (STEP, IGES, SAT). There is also the possibility for creating your own free form, organic models using subdivision surface modeling tools inside Cyborg3D SubD2CAD. Whether you are creating your own models, or importing them from other organic modeling systems, Cyborg3D SubD2CAD can convert those models into standard CAD formats for typical downstream activities like analysis, drawing production, CAM, Booleans, filleting, shelling, etc. Cyborg3D SubD2CAD is priced at $995.
Cyborg3D CAD2Print
Cyborg3D CAD2Print can import models using standard CAD formats (IGES, STEP, SAT) and format them for 3D printing. It produces high quality, water tight STL meshes, which are ideal for 3D printing. Cyborg3D CAD2Print is priced at $495.
Cyborg3D CAD2Poly
Cyborg3D CAD2Poly is a new product that tessellates NURBS (CAD) geometry into water tight, high quality polygonal models (including quad meshes) in STL or OBJ format. With flexible control of the resulting meshes it is an excellent tool for game engines, rendering, interference detection, 3D printing. Cyborg3D CAD2Poly is priced at $495.
Cyborg3D is built using software architecture like C# techniques and features multi-threaded parallel processing which is very well suited for dealing with large assemblies and compute intensive functionality. Based on IntegrityWare's SOLIDS++ geometric modeling Kernel, a unique and powerful hybrid modeling system that supports Solids, Surface and Polygonal modeling. nPower modeling tools (Power NURBS, Solids, Translators) provide the highest order of surfacing, solids modeling, analysis, and tessellation technologies. In addition, Cyborg3D utilizes the new SubD-NURBS library product, which provides accurate conversion between Sub-D geometry and NURBS geometry.
Cyborg3D is IntegrityWare Inc. is a company that specializes in advanced geometric modeling solutions. Founded in 1996, IntegrityWare has been providing advanced modeling solutions to a growing base of customers building industry-leading solutions. The SOLIDS++ modeling kernel is an Object-Oriented Non-Manifold Modeling kernel that provides a comprehensive suite of geometry and topology tools for Solids Modeling, Surface Modeling, Curve Modeling, Polygonal Modeling and Non-Manifold Modeling. SOLIDS++ has been in development for about 20 years, with research and development of the most advanced modeling solutions. The SOLIDS++ kernel is currently licensed to developers needing to provide the most advanced geometric modeling functionality to their customers – such as Autodesk, MOI, Nemetschek, PTC, New River Kinematics, Bentley Systems, Tech Soft 3D, and Ford Motor Company.
SubD Design Workflow Gas Can Creation
http://www.screencast.com/t/Myt8L2gj
More information at: Cyborg3DSoftware