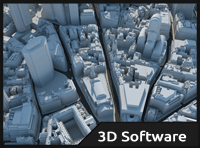 Today, Mixiamo announced the public release of Mixamo 2.0. Mixamo 2.0 has been in beta since the end of February, starting a new faster and more streamlined user experience for creating, rigging and animating 3D characters online. What is Mixamo?. It is an online platform that enables developers and artists to let their imagination run free and be even more ambitious about their games, films and other 3D projects. Using Mixamo you can create your own character using Fuse, use your own character or choose something from the online database. If yu choose to create your own character using Fuse, you can browse through varied body parts, clothes, and Substances (powered by Allegorithmic) to create fully rigged 3D characters ready for animation. One of Mixamo's most amazing features is the Auto-Rigger. This feature can save hours of hard work, all you need to do, is upload your 3D character (supports .fbx, .bvh, .zip, .obj), place a few joint markers on your character, and watch your character get fitted with a professional rig and its mesh will be properly bound to its shiny new skeleton. Once you are finished, you can download your character back in any format you want.
New features of Mixamo 2.0 interface:
WebGL viewer is 10x faster than before, requires no plugin, works on Linux
One screen for all your animation searches, comparisons, editing and Auto-rigging
Over 20 expanded animation packs, all fully customizable so you get just what you want
Bulk downloading and export settings to save you tons of time
Faster and plugin-free viewer
In the preview versions, users had to install the Unity Web Player plugin to view content on Mixamo's original site. Now, viewing 3D content on Mixamo is brighter, sharper, faster, 100% plugin free experience. Mixamo built the Store on a brand new framework utilizing WebGL technology, which renders 3D and 2D graphics inside any modern web browser.
Customizable animation packs
Mixamo 2.0 features twenty two curated animation packs, making it easy to grab complete sets of animations that work together immediately, and our animation collection is always growing. You can modify your pack's content so that it includes only what works for your project. Feel free to add animations that are not in the original pack, or whittle down the animation content to just what you need. Because the viewer is now side-by-side with the search results, you can see right away what will work with your existing pack and what won't. Seventeen new animation packs were added since the launch of Mixamo 2.0 in February 2015. Mixamo 2.0 includes a wide range of genres like Combat, Fantasy and Locomotion, as well as offering options for Pro and Lite versions to fit your needed level of animation complexity.
Searchable and organized assets
In Mixamo 2.0 you can find a new ability to create your favorite items, so that you can earmark assets for easy reviewing later. You can also use this feature to see the popularity of a certain asset - that way, when you are deciding between animations, you have an indicator of which one wins the heart of more users. And, just like the original Mixamo site, you are able to store any asset that you have been working on.
Worth the wait
Mixamo 2.0 has been in beta since the end of February, and the final transition today comes after we made sure that all Mixamo user account functionality remains the same in the new interface. The migration period allowed us to do a responsible transition through iterative cycles of development, testing, gathering feedback, and improvement tweaks. That continued iteration won't end with the full transition, and your feedback is just as important now as it was before.
More information at: Mixamo